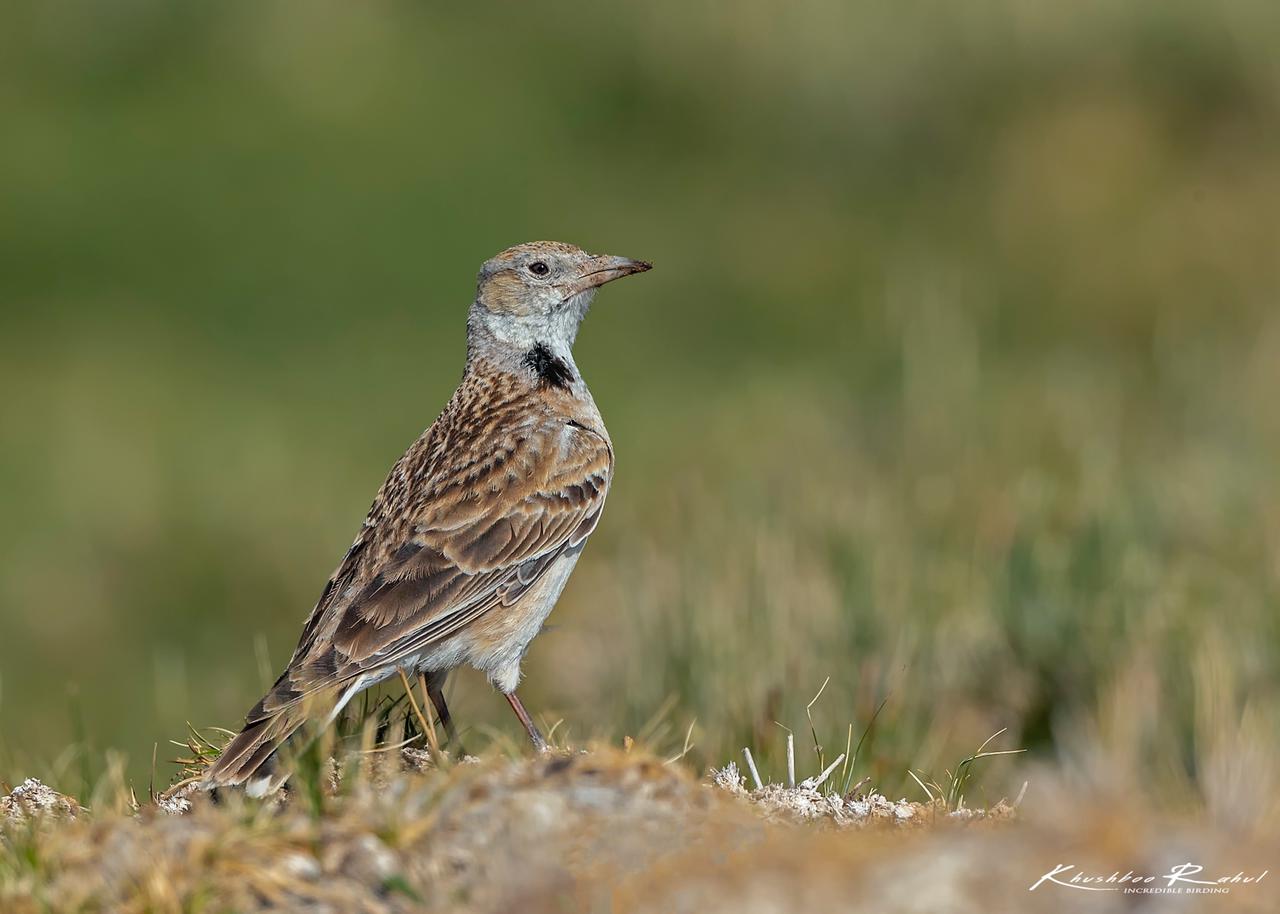 Being named "the land of high passes" and renowned for extreme adventure excursions, we are sure that birding in Ladakh isn't something every traveler is familiar with. Bald mountains, dusty plains, pristine lakes, high mountain passes, and treacherous roads, when all this culminates, it is understandable that Ladakh is a famed adventure travel destination. The numerous monasteries offer a chance for travelers to dive into the Tibetan culture and learn about their traditions and history. But now, we would like to introduce you all to an aspect of this serene land that is less explored hence, brimming with gorgeous vistas.
Until very recently, Ladakh wasn't a "go-to" birding destination like it is slowly shaping up to be these days. The arid climate, extremely rugged terrain, vastness, remoteness, and sparse accessibility rarely ever encouraged travelers to explore that aspect of the region. Then, the road connectivity improved (the ridiculously scenic & smooth patches on the Leh-Manali highway are marvelous!) and bird lovers, nature enthusiasts, and ornithologists began their exploration.
Ladakh in itself is still quite unexplored when it comes to wildlife. Many of us have heard of long-tailed marmots, snow leopards, double-humped camels, bears, and kiangs but there are several more species, especially of avian fauna i.e. birds, just waiting to meet you. Species endemic to Ladakh are well acclimated to the high altitude, sub zero temperatures, and the dry climate. Experiencing an animal or bird reveling in its natural habitat is what wildlife and bird photographers as well as nature lovers are looking for.
What can bird lovers expect?
Bird lovers or "Bird Nerds" must prepare themselves to be thrown by the beauty of the several species of birds soaring in the skies of Ladakh. Over 300 different species of birds have been spotted in the region by researchers and photographers. The Trans-Himalayas spread all across this remote land sees several resident and migratory bird species that relocate based on the altitude, weather, and season. Some of the species you'll get to watch flutter about and capture in your camera lens are:
Black-Necked Crane
Great Crested Grebe
Common Merganser
Himalayan Griffon
Eurasian Eagle Owl
Little Owl
Winter Wren
Snow Pigeon
White-Throated Dipper
Upland Buzzard
Tibetan Sandgrouse
Blanford's Snowfinch
Brandt's Mountain Finch
Hume's Groundpecker
Tibetan Partridge
Although it is possible to spot various bird species everywhere in Ladakh, the migrant species tend to prefer the central or eastern parts of the region. Let's take a gander at the areas that are perfect, that sweet spot, for birding in Ladakh.
Puga-Sumdo Valley: A 7-8 hour drive away from Leh, this valley is boasts some of the richest avifauna (birds) in Ladakh like the the Upland Buzzard, Eurasian Eagle Owl, Black-necked Crane, Lammergeier, and White-tailed Rubythroat. Puga is close to the scenic lakes- Tsomoriri and Tsokar.
Suru Valley: While cruising on the Srinagar-Leh highway near Kargil, you'll come across Suru Valley. It is comparatively much, much greener than other parts of Ladakh and welcomes you with lush meadows and fields. Birds like the Long Billed Bush Warbler, Firecapped Tit, and White-tailed Rubythroat love the greenery and are residents of those beautiful fields and meadows.
Nubra Valley: When you conquer the mighty Khardung La, an extremely high-altitude pass, you will descend into the enchanting Nubra Valley. It has a desert with sand dunes, green fields, thickets of seabuckthorn all aligning alongside flowing rivers and streams. This eccentric topography makes it a suitable habitat for many ducks, warblers, shrikes, finches, as well as raptors like owls, eagles, and buzzards.
Shey-Thiksey Marshes: These marshes are situated in and around the small town of Shey, a mere 20 minute ride (or drive) from the capital city- Leh. This place is a popular birding spot where you can photograph the Eurasian Hobby, Ibisbill, Harriers, Redstarts, the Solitary Snipe, etc.
Tsomoriri: Drive through rough roads and take in breathtaking vistas on your way to Tsomoriri. The crystal clear water and its enchanting hue make this place a "must-visit" destination for all travelers. It is known to be a breeding ground for the bar headed goose. Besides this, you can see mountain finches, rose finches, Great Crested Grebes, and Black-necked Cranes.
Tsokar: Tsokar is a fairly large salt-encrusted lake situated in remote eastern Ladakh, a couple of hours from Tsomoriri. This lake can be considered as one of the best places to witness multiple species of birds. The Great Crested Grebe, Bar headed Goose, lesser Sand Plovers, Ruddy Shelducks, and different types of gulls and terns setup camp here; Tsokar is their preferred breeding ground. You can also see the Hume's Groundpecker, Black-necked crane, Tibetan Sandgrouse, Tibetan Partridge, and Tibetan Snowcock.
If you're looking to go further than others and venture towards the unknown, you can even take a trip far away Southeast from Leh to Hanle and Chumur, a few hours ahead of Tsomoriri, for the chance of spotting flocks of migrating birds.
What more to do beyond bird watching?
Now that you've fallen in love with birding in Ladakh, we understand that you must be wondering about what else is there for you to explore here. Well, we not only organise birding tours in Ladakh but also some landscape photography trips that take you to some bespoke destinations. Pangong Tso, Tso Moriri, and Tso Kar are three lakes in eastern and south-eastern Ladakh that offer hypnotizing sceneries to travelers. Watching Bactrian camels roam the cold desert in the Nubra Valley as snow-capped rugged mountains provide an exceptional backdrop!
Ladakh is also culturally very sound as you will see several Gompas or Monasteries here. Learning the culture and traditions of the people as well as about the history of that particular Gompa is interesting. Om Mani Padme Hum– you'll hear this chant and even see it on prayer flags and stones. When you travel to Ladakh, ask a monk what it means and why it is etched on stones or printed on flags.
So, now you know that along with the tropical rainforests of Northeast and South India as well as the dense deciduous jungles of North India, Ladakh too is a superb birding destination. Don't fall for the lack of vegetation, extreme weather conditions, or limited accessibility; the crown sitting atop India can definitely catch you off guard! Pack your bags, get your zoom lenses, hang on to your binoculars and set out to go birding in Ladakh.