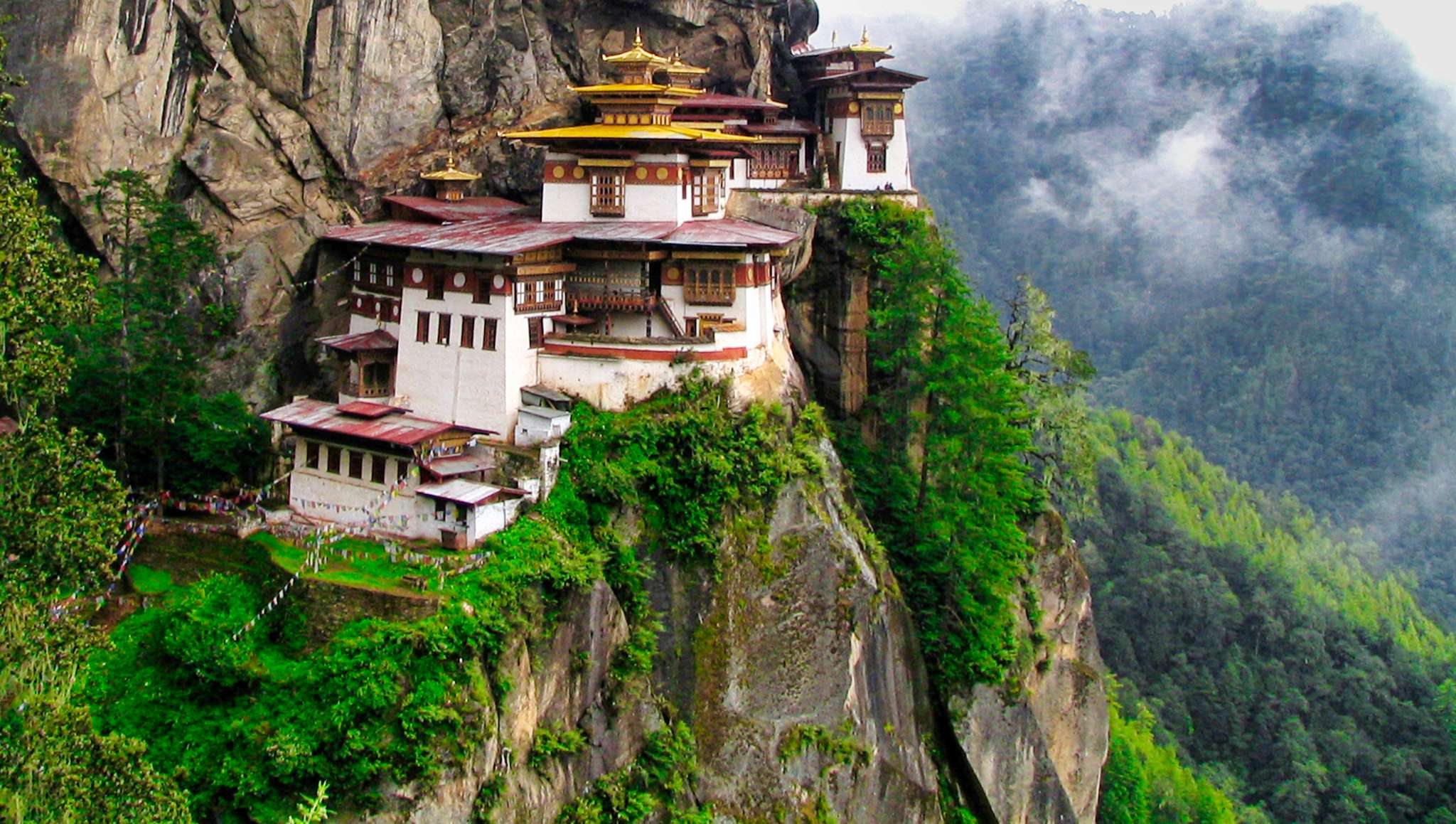 Bhutan, "Land of the Thunder and Dragon" is a remote timeless Kingdom nestled in the magnificent Himalayas. Besides its distinct tradition, picturesque scenery, Buddhism culture, and fascinating heritage, Bhutan is also highly forested for over 70 percent of its land, which cultivates the thriving vegetation and exceptional wildlife, including 700 species of birds. Among them, some are still poorly known or newly discovered. The impressive species include Black-Necked Crane, Satyr Tragopan, Blood Pheasant, Himalayan Monal, Yellow-throated Fulvetta, etc. In recent years, it has opened its borders to visitors, which provides an opportunity for you to enjoy a memorable Birding tour for a lifetime.
What Bird Can You See in Bhutan
With about 700 species of birds discovered yet in "the land of thunder and dragon", Bhutan is a paradise for birding goers and ornithologists. The pristine land houses many species, including fifty endangered ones, and the Bhutanese even hold a festival for the rare Black-Necked Crane every year to celebrate its migration from Tibet and over the Himalayas and back to Bhutan in winter. Besides the national treasure, the black-necked crane, you can also capture many other species in your sight, like ducks, waders, birds of prey, thrushes, finches and buntings.
Here we also list the endangered birds, some of which can only be seen in Bhutan:
Baer's Pochard, Beautiful Nuthatch, Black-necked Stork, Blackish-breasted Babbler, Blyth's Kingfisher, Chestnut-breasted Partridge, Dark-rumped Swift, Eurasian, Curlew, Eurasian Peregrine Falcon, Ferruginous Duck, Gray-crowned Prinia, Great Hornbill, Lesser Fish-eagle, Palla's Fish-eagle, Pallid Harrier, Rufous-necked Hornbill, Rufous-throated Wren-babbler, Satyr Tragopan, Ward's Trogon, White-rumped Vulture, White-throated Bushcat, Woodsnipe, Yellow-rumped Honeyguide, Black-necked Crane, Imperial Heron, White-bellied Heron.
With dense vegetation and rich forestry, Bhutan is a paradise for bird watchers where you can see birds all year round. Generally, the best time to go birding is from March to May, and September to November. During this time, it is usually clear, comfortable and convenient to hike through the forests and farmlands. It is also recommended to come to Bhutan in winter to attend the annual black-necked crane festival at Gantey monastery. Only during this time, you can encounter these beautiful migrated species.
Different birds may have different active time. Some are excited during the daytime, while others only move at night. However, in a day, most birds tend to become very active during the transitional periods of time, such as the dawn and the dusk when the sun comes up and down, and most birds are less active during the hottest period of one day. Also, during the migration and breeding seasons of the bird, your birding will become more productive.
Day
1
Arrive in Paro – Day excursion
Meet and greet on arrival at Paro International Airport by our Group Leads. A quick briefing about the itinerary of the trip, some essentials (SIM Cards, currency exchanges etc…) and things to note, we check into hotel at Post lunch we head out in search of Black-tailed Crake and Ibis bill at Paro outskirts followed by a glimpse of Tiger's Nest Monastery and return to hotel. Followed by Tea / Coffee and refreshments. We gather for an early dinner in order to get a good rest and prepare for the next day. Overnight at Hotel Olathang or similar.
We start early at 5 from the Hotel towards Chele-La which is the highest motorable road in Bhutan (at 3999 MSL). As the day breaks, we start looking for Blood Pheasants and Satyr Tragopan along the road and photograph these beautiful pheasants. We reach the peak of Chele-La for a hot & sumptuous breakfast at the pass which will be awaiting us. Post breakfast we start looking for Monal, Nutcracker, Gross-beaks and Finches around the area until 12 pm. We return to our hotel in time for lunch. Post lunch, we check out and head towards Thimpu our next stop. This drive offers some breathtaking views and we occasionally stop for taking some landscapes / photograph birds on the way. After checking in to our hotel followed by Tea / Coffee, the participants will have time for photographing birds like Black bulbul, Scimitar babblers, Prinias and Magpies around the hotel or spend time photographing the beautiful Thimpu cityscapes and sunset over the mountain.
Drive Time: 2 hours

Day
3
Dochu La – Royal Botanical Garden – Punakha
We start early at 5 and drive towards Tango Valley which is a gorgeous valley surrounded by oak forests and lies along the banks of Thimpu Chu river. This place offers great opportunities to photograph sunbirds (Ms. Gould's, Crimson), Niltava and White Collared Blackbird among others. We may also be lucky to spot Honey buzzards and other raptors. Hot breakfast will be served nearby and we would drive back to our hotel to collect our luggage and permits for our journey beyond Thimpu (since the visa permits us to travel only around Paro & Thimpu). After freshen up and check out, we head towards Punakha. Our first stop will be at Dochu La pass which is famous for its 108 stupas. After photographing the splendid vista's and stupas we try our luck for Slender-billed Scimitar babbler at the pass (after a small hike). We will have our lunch at the Royal Botanical garden and start looking for Parrotbills, woodpeckers an waders in the lake located within the park. We should reach our hotel at Punakha by dusk, followed by Tea / Coffee and refreshments. We retire early after a action packed day post dinner. Overnight at Hotel Vara (Punakha) or similar.
Drive Time: 3 hours
Day
4
Jigme Dorji National Park
The day starts early at 5 am as it takes about an hour and half to reach the park entrance. Today we will target Goldenfronted barbet, Parrotbills, Maroon Oriole and sunbirds. We may also spot the Brown fish owl and other small birds like warblers, Fulvetta and Tits. The real highlight of this area will be Asian Emerald Cuckoo. Breakfast and lunch are arranged nearby to save time. Post lunch we head to the river bed of Punakha for photographing the Common Shelduck and other waders along with the Scimitar babblers and other birds around the river bed. The evening provides an opportunity to photograph the Punakha Dzong (Palace) and the suspending bridge along with the endless vistas. Drive back to the hotel, freshen up and head straight to the dinner. Overnight at Hotel Vara (Punakha) or similar.
We check out from the hotel at 6 and drive towards Pele La pass. Today we will be trying for Ward's Trogon, Himalayan Cutia, Golden-breasted Fulvetta, Parrotbills and other species. Breakfast and Lunch will be arranged at convenient spots to save one valuable time. Overnight at Wangchuk Lodge or Similar.
Drive Time: 5 hours
We start early heading towards Pele La looking for Satyr Tragopan and other birds, the primary target today will be Satyr and Fire-tailed Myzornis. Breakfast and Lunch will arranged on the way. We reach our hotel at Trongsa by dusk and retire for the day after dinner. Overnight at Yangkhil Resort or Similar.
Drive Time: 3 hours
The day starts with birding around Trongsa looking for Maroon Oriole, Barwings, Bhutan Laughing Thrush, Flycatchers and woodpeckers. Breakfast and Lunch will be arranged conveniently. We reach Bumthang by afternoon just in time to photograph Satyr and Monal. Other expected species are White wagtail, Eurasian Magpie and finches. Overnight at Chumey Nature Resort or Similar.
Drive Time: 4 hours
We head back to the hills looking for Blood Pheasants (another subspecies – different than Chele La), Satyr and Monal until breakfast. Post breakfast we slowly drive back towards Trongsa photographing birds on the way. Overnight at Yangkhil Resort or Similar.
Drive Time: 4 hours
We checkout from the hotel and drive backwards photographing birds on the way at Pele La, Nobding and other places. Prime targets will be Fulvetta, Minla and Sunbirds along with Wards Trogon (time & weather permitting). Breakfast and Lunch on the way. Overnight at Hotel Vara or Similar.
Drive Time: 4 hours
We start early looking for Slender-billed Orioles, Lesser Coucals and Khalij Pheasants stopping for breakfast and lunch. We will also look for Ibis bill around Thimpu river on the way to Paro. Breakfast and Lunch will be arranged conveniently. Retire early for the day post dinner and packup for the flight back home Overnight at Hotel Olathang or Similar.
Drive Time: 4 hours
All flights leave early in the morning hence an early checkout will be required. Bid Adieu to local guide and drivers who hosted us throughout the journey and head home with loads of images.
Blood Pheasant
Satyr Tragopan
Himalayan Monal
Red Jungle fowl
Khalij Pheasant
Ruddy Shelduck
Common Shelduck
Himalayan Vulture
Common Kestrel
Eurasian Sparrow-hawk
Himalayan Buzzard
Black-tailed Crake
Ibis bill
River Lapwing
Snow Pigeon
Speckled Wood Pigeon
Emerald Dove
Asian Emerald Cuckoo
Green-billed Malkoha
Lesser Coucal
Ward's Trogon
Himalayan Wood Owl
Collared Owlet
Great Hornbill
Great Barbet
Blue-throated Barbet
Golden-throated Barbet
Yellow-rumped Honeyguide
White-browed Piculet
Speckled Piculet
Rufous-bellied Woodpecker
Rufous Woodpecker
Darjeeling Woodpecker
Crimson-breasted Woodpecker
Scarlet Minivet
Long-tailed Minivet
Grey-backed Shrike
Long-tailed Shrike
Ashy Drongo
Black Drongo
Spangled Drongo
Bronzed Drongo
Maroon Oriole
Slender-billed Oriole
Eurasian Jay
Yellow-billed Blue Magpie
Yellow-bellied Fantail
White-throated Fantail
Black-naped Monarch
Eurasian Magpie
Spotted Nutcracker
Red-billed Chough
Green-backed Tit
Coal Tit
Rufous-vented Tit
Grey-crested Tit
Rufous-fronted Tit
Yellow-browed Tit
Black-throated Tit
Oriental Skylark
Black Bulbul
Ashy Bulbul
Common Tailorbird
Striated Prinia
Black-throated Prinia
Brownish-flanked Bush Warbler
Large-billed Leaf Warbler
Yellow-vented Warbler
Black-faced Warbler
Ashy-throated Warbler
Buff-barred Warbler
Lemon-rumped Warbler
Grey-hooded Warbler
Blyth's Leaf Warbler
White-spectacled Warbler
Chestnut-crowned Warbler
Sulphur-bellied Warbler
Tickell's Leaf Warbler
Rufous-capped Babbler
Rusty-cheeked Scimitar Babbler
Streak-breasted Scimitar Babbler
White-browed Scimitar Babbler
Slender-billed Scimitar Babbler
White-crested Laughing thrush
White-throated Laughing thrush
Striated Laughing thrush
Spotted Laughing thrush
Black-faced Laughing thrush
Chestnut-crowned Laughing thrush
Rufous-necked Laughing thrush
Bhutan Laughing thrush
Hoary-throated Barwing
Rusty-fronted Barwing
Himalayan Cutia
Bar-throated Siva
Red-tailed Minla
Blyth's Shrike-babbler
Rufous-winged Fulvetta
White-browed Fulvetta
Golden-breasted Fulvetta
Rufous Sibia
Whiskered Yuhina
Rufous-vented Yuhina
Stripe-throated Yuhina
Striated Yuhina
Black-chinned Yuhina
Grey-headed Parrotbill
Brown Parrotbill
Fire-tailed Myzornis
Oriental White-eye
Brown Dipper
White-tailed Nuthatch
Chestnut-bellied Nuthatch
Rusty-flanked Tree creeper
Blue Whistling Thrush
White-collared Blackbird
Grey-winged Blackbird
Plumbeous Water Redstart
White-capped Redstart
Blue-fronted Redstart
Common Stonechat
Grey Bush chat
Blue-capped Rock Thrush
Chestnut-bellied Rock Thrush
Dark-sided Flycatcher
Rufous-gorgeted Flycatcher
Ultramarine Flycatcher
Verditer Flycatcher
Ferruginous Flycatcher
Sapphire Flycatcher
Grey-headed Canary Flycatcher
Rufous-bellied Niltava
Large Niltava
Small Niltava
Orange-bellied Leafbird
Fire-breasted Flowerpecker
Mrs. Gould's Sunbird
Green-tailed Sunbird
Black-throated Sunbird
Fire-tailed Sunbird
Crimson Sunbird
Alpine Accentor
Rufous-breasted Accentor
Eurasian Tree Sparrow
Russet Sparrow
White Wagtail
Rosy Pipit
Plain Mountain Finch
Tibetan Serine
Common Rosefinch
White-browed Rosefinch
Dark-rumped Rosefinch
White-winged Grosbeak
Collared Grosbeak
Per Person Cost For Package
INR
1,50,000/-
Please Note:
Pre-customisation of the tours are available, Contact team Incredible Birding.