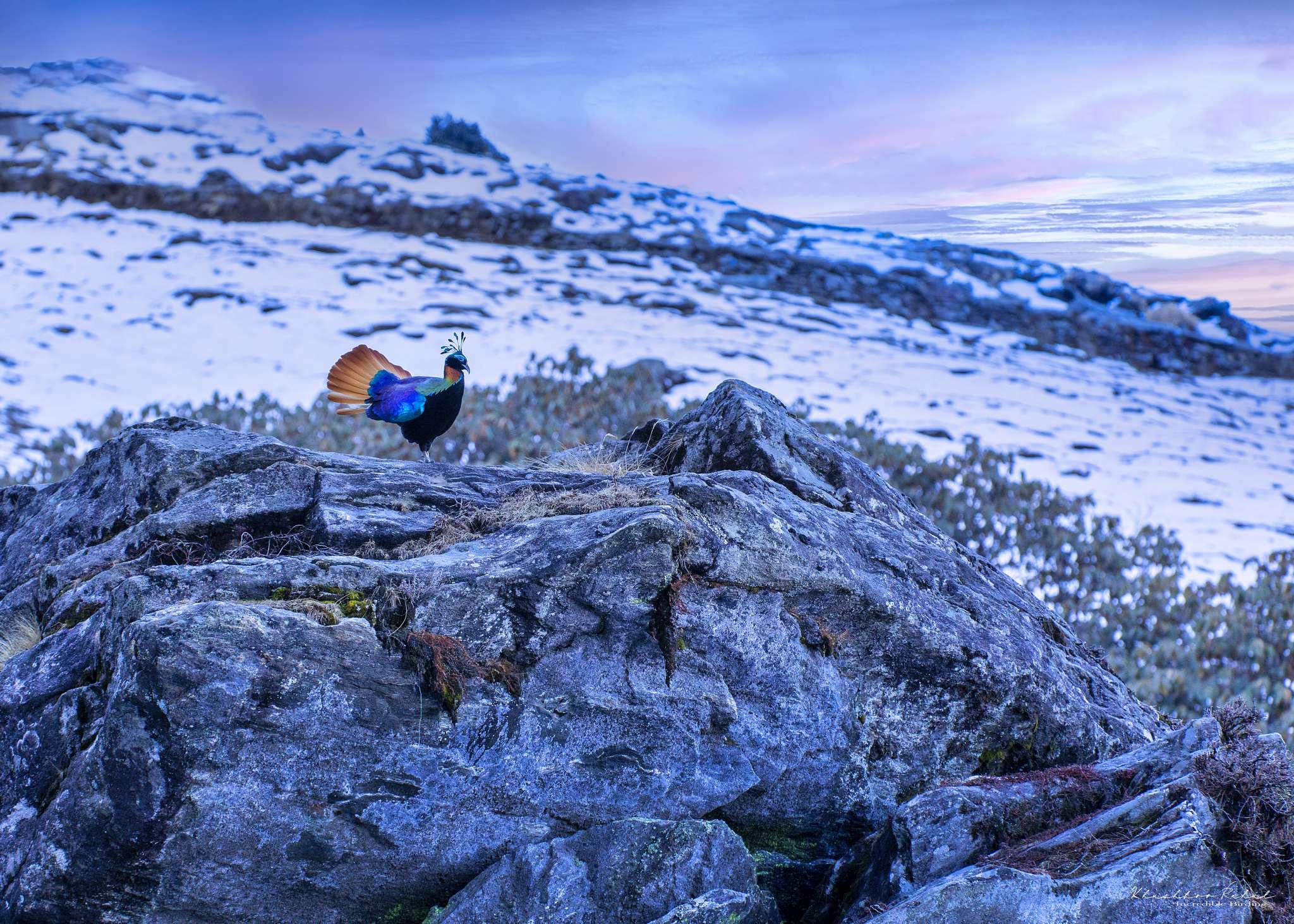 The Chopta Hill station is at a height of 2700 mts, in the Rudraprayag District of Uttarakhand State, surrounded by dense forests and offers a heavenly view of Snow Clad Himalayan Ranges and lush green meadows. Chopta is also referred to as "Mini Switzerland".
Chopta is a beautiful trekking destination that not only attracts people from India but also many foreign trekkers. The Chopta region has many treks and trails cutting through jungles and grasslands. Due to the abundance of the birds there, Chopta has become a popular destination for the tourists for bird watching. Deoria Tal is a very famous lake that is surrounded entirely by forests on all sides. The trek to the Deoria Tal is truly worth it.Chopta in the Kedarnath Wildlife Sanctuary provides some excellent winter and spring birding, and fantastic landscapes. A mix of pine and deodar forest with rhododendrons, amidst lush 'bugyals' or grassy meadows, it is probably the best and most easily accessible place in India to see the stunning 'nine-colored' state bird of Uttarakhand, the Himalayan Monal. That alone would be worth the long drive, but the area has much more to offer.
Birds one can sight in this area are- Snow Partridge, Himalayan Monal, Koklass Pheasant, Kalij Pheasant, Golden Eagle, Bearded Vulture (Lammergeier), Upland Buzzard, Himalayan Owl, Spot-winged Rosefinch, Rufous-bellied Woodpecker, European Goldfinch, Ashy Wood-Pigeon, Fire-capped Tit, Spotted Laughingthrush, Variegated Laughingthrush, Nepal Wren-Babbler, Pied Thrush, Long-billed Thrush, Scarlet Finch, Spot-winged Grosbeak, Golden Bush-Robin, White-browed Bush-Robin, Fire-fronted Serin, Spot-winged Starling, Himalayan Beautiful Rosefinch and Yellow-rumped Honeyguide.
Complete checklist
Snow Partridge
Himalayan Monal
Red Junglefowl
Kalij Pheasant
Indian Peadowl or Blue Peafowl
Northern Pintail
Brown -fronted Woodpecker
Rufous -bellied woodpecker
Himalayan Woodpecker
Scaly -bellied Woodpecker
Grey -headed Woodpecker
Black-rumped Flameback
Great Barbet
Brown-headed Barbet
Blue-throated Barbet
Coppersmith Barbet
Indian Grey Hornbill
Oriental pied Hornbill
Great Hornbill
Indian Roller
white-throated kingfisher
Crested Kingfisher
Green Bee-eater
Chestnut headed Bee-eater
Alexandrine Parakeet
Rose-ringed Parakeet
Slaty-headed Parakeet
Plum-headed Parakeet
White-throated Needletail
Alpine Swift
Collared Owlet
Jungle Owlet
Spotted Owlet
Rock Pigeon
Snow Pigeon
Oriental Turtle Dove
Spotted Dove
Eurasian Collared Dove
Little Ringed Plover
Black-winged Stil
Common Sandpiter
Green Sandpiter
Red-wattled Lapwing
Black-shouldered Kite
Black Kite
Crested Serpent Eagle
Shikra
Crested Honey Buzzard
White-eyed Buzzard
Steppe eagle
Crested Hawk-Eagle
Common Kestrel
Peregrine Falcon
Bearded Vulture
Egyptian Vulture
Himalayan Griffon
Cinereous Vulture
Red-headed Vulture
Great Cormorant
Cattle Egret
Indian Pond Herons
Black Strok
Long-tailed Shrike
Eurasian Jay
Black-headed jay
Yellow-billed Blue Magpie
Red-billed Blue Magpie
Rufous Treepie
Greyn Treepie
Spotted Nutcracker
Red-Billed Chough
House Crow
Jungle Crow
Eurasian Golden Oriole
Maroon Oriole
Long-tailed Minivet
Yellow
-billed fantail
White -throated Fantail
Ashy Drongo
Spangled Drongo
Brown Dipper
Asian Paradise Flycatcher
Rufous-gorgeted Flycatcher
Verditer Flycatcher
Ultramarine Flycatcher
Small Niltava
Taiga Flycatcher
Asian Brown Flycatcher
Chestnut-bellied Rock Thrush
Blue Whistling Thrush
White-collared Blackbird
Grey-winged Blackbird
Mistle Thrush
Black-throated Thrush
Oriental Magpie-Robin
Indian Robin
Black Redstart
Blue-Fronted Redstart
White-capped Water Redstart
Plumbeous Water Redstart
Little Forktail
Spotted Forktail
Red-flanked Bluetail
Common Stonechat
Grey Bush Chat
Brown Rock Chat
Pied Bush Chat
Spot-winged Starling
Asian Pied Starling
Common Myan
Chestnut-bellied Nuthatch
Bar-tailed Tree-creeper
White-tailed Nuthatch
Fire-Capped Tit
Fufous-naped Tit
Spot-winged Tit
Grey Crested Tit
Great Tit
Green-backed Tit
Indian Black-lored Tit
Black-throated Tit
Plain Martin
Red-rumped Swallow
Red-vented Bulbul
Himalayan Bulbul
Black Bulbul
Striated Prinia
White-throated Laughingthrush
White-crested Laughingthrush
Striated Laughingthrush
Streaked Laughingthrush
Variegated Laughingthrush
Chestnut-crowned Laughingthrush
Black-chinned Babbler
Jungle Babbler
White-browed Shrike Babbler
Chestnut-tailed Minal
Rufous Sibia
Stripe-throated Yuhina
Whiskered Yuhina
Purple sunbirds
Green-tailed sunbird
Crimson sunbird
House Sparrow
Russet Sparrow
White-browed Wagtail
Yellow Wagtail
Rosy Pipit
Common Rosefinch
Pink-browed Rosefinch
Crested Bunting
Rock Bunting
Alpine Accentor
Rufous-breasted Accentor
Oriental White-Eye
Common Tailorsbird
Lemon-rumped Warbler
Ashy-throated Warbler
Grey-hooded Warbler
Hume's Warbler
Golden-spectacled Warbler
The best time to visit Chopta for birding is during the summers mainly March, April, May due to its absolutely pleasant weather for summer species.
Chopta witnesses snow from November to March, which is extremely good for winter species .
Day pick up from Sattal to incredible birding camp, Full Day Birding In Sattal.
Early Morning Departure From Sattal to chopta, Pickup From Preset location, Reach Chopta By Late Evening [Approx 10 Hrs Journey] Breakfast And Lunch On The Way, Dinner At Chopta.
Early Morning WakeUp Call With Tea and biscuits, Morning Session At Monal Point, Evening Session at Koklass and Red Fox Point, Lunch Breakfast And Dinner will be at Chopta
Early Morning WakeUp Call With Tea and biscuits, Full Day Session At Makku Bend And Makku Farms And Village. Packed Breakfast, Lunch At Makku Bend, Dinner At Chopta.
Early Morning WakeUp Call With Tea and biscuits, Full Day Birding on Chopta-Tungnath Trek, Packed Breakfast, Lunch. Dinner At Chopta.
Early Morning WakeUp Call With Tea and biscuits, Early Morning Departure From Chopta to Sattal, Reach Sattal By Late Evening [Approx 12-14 Hrs Journey]
Per Person Cost For Package
INR
44,999/-
Please Note:
Pre-customisation of the tours are available, Contact team Incredible Birding.